``

---
Romancing the heart with a by-gone era
Mission Statement: "I hope to bring a charming respite in your hectic schedule that you will remember with a smile in your heart."
Performances currently available:
---
Titanic #s 1-3
These consist of a series of 3 different Titanic performances! I have done extensive research on some of those that actually survived this catastrophic event. I reenact them for my audience so they may 'meet' three at a performance , one from each class of the ship. This way after attending all 3 they will have 'met' 9 survivors who tell why they were aboard the fateful ship , how they felt about their accommodations, and what life was like for them and their families afterward! I take on the accent that belongs to their nationality, their personality and accessories to accommodate their station in life. This Titanic series is very popular as people have a desire to reminisce with a time of extreme opulence and drama. They are also interactive.
A day in the life of a Victorian family
Enjoy a wonderful slide program that allows you to take a peek into the daily activities of an upper-class turn of the century family. This includes a tour of their home, activities, servant duties, social structures, and lot's more. Appropriate antiques and replicas will be on display.

* The romantic courtship, betrothal, and wedding customs of a gracious by-gone era.

This performance romances the heart with delightful courting customs and explains their origin,. the muted language of flirtations with ladies' gloves, bridal shower traditions, , Queen Victoria's influence on weddings then and now, appropriate gifts by a courting couple shown, fascinating trivia and much more. This performance is sure to inspire romance! Great for bridal showers!
---
The charming muted languages of love and flowers
A Victorian Sojourn into the sweethearts' silent communication of endearments. Coquettish flirtations enjoyed with the ladies fan, parasol and handkerchief demonstrated. Everyone receives their own flower brochure so that they may create a bouquet full of sentiment today, bringing a bit of romance from the past.
---
An American Heiress' debut in Queen Victoria's England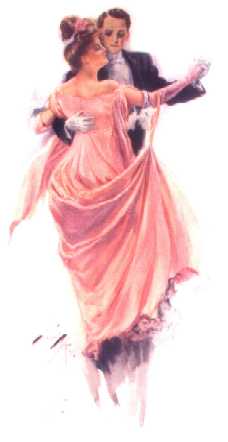 A truly enchanting performance entertaining you with a bit of English and American Victorian history.

What was a social godmother and why was she desired in America?

What protocol and decorum was expected of a debutante attending a ball?

What beauty secrets would a Victorian Lady employ?

What flirtations were appropriate for social occasions?

All these fascinating questions and many more will be answered to your delight! Court curtsey, required by debutante daughters of English nobility demonstrated.

Everyone receives their own impressive finishing school diploma suitable for framing!

---

How To Marry An English Lord

This unique performance is literally history personified. Enjoy watching as Diana portrays seven different Victorian characters by changing her accessories. This is the story of Mrs. Astor of 19th Century New York and her affect on American and English society. Women such as the famous Vanderbilt's were driven to debut in England because Mrs. Astor wouldn't allow them in since they were nouveau rich. Learn how these characters felt about this phenomenon.

In America:
Mrs. Astor, the American debutante and their mama's

In England:
Queen Victoria, Prince of Wales "Bertie", A Duke and an English debutante
---
The delights of a truly Victorian afternoon tea
This lovely performance includes the ritual of morning calls and authentic nineteenth century gossip! Discover the outlandish muted flirtations that were indulged in at a Victorian formal dinner, and also the protocol expected of the servants.

Learn of how Queen Victoria's influence on afternoon tea became a welcome respite in a ladies day.

For children this includes authentic games from that era and proper etiquette and manners (then and now). Optional: A period craft!

---
Anne of Green Gables, all grown up
Diana Reardon wears a beautiful Titanic inspired costume, for it's the year 1914.
She stays in character as the vivacious Anne Shirley Blythe. Anne has now married her beloved Gilbert and is the mother of 6 rambunctious children. 'Anne' delights us with what it is like to be a story book character come to life! Interesting comparisons are made between the author L.M. Montgomery's life and Anne's. You will be entertained with this combination of Diana's performance / book review of L.M. Montgomery's eight classical books on Anne's life. This unique delivery for those kindred spirits familiar with the series, will leave with their hearts full of fun and laughter.
---
Doctor Tillie O' Malley
Doctor Tillie O'Malley fills her audience in on what treatments and medicines are typical of the Victorian era.. Enjoy seeing what she carries in her doctor bag and what medical cases she is currently working on. She is stereotypically very Irish and full of humor and song. She enjoys singing light-hearted Irish diddies to anyone that will listen. This performance is also great for baby showers!
---
Giselle DeBoise
Giselle DeBoise is of French descent. She resides in Victorian England and is well known and respected for her talent of millinery. Her elegant albeit petite Shoppe is named after her, 'DeBoise Millinery'. Her audience will enjoy watching her as she trims hats with all of her frills and furbelows at her finger tips. You will enjoy being regaled with the different and some what eccentric clients she deals with. Giselle will also delight you with gossip concerning some of her more famous clientele. This performance is sure to touch your heart and funny bone. You will leave inspired to tackle the art of trimming your own hat!!!
---
Victorian Characters under construction (will soon début)
In the fall /winter of 2003 I will debut Laura Ingalls Wilder!!! While Laura regales her audience with her fascinating life she will be wearing an apron as she is making biscuits from her very own cook book!
---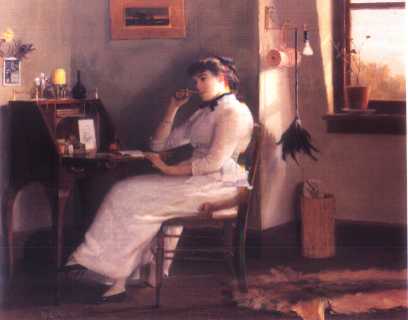 Also, available to any of Constance's performances is a lively repartee on the writing of love letters. Fabulous authentic by-gone era letters will be read which will inspire and romance our hearts! Have you ever been frustrated when you want to express your intense love for a very special person; it becomes redundant to say " I love you so much that there are no words in the English language left to tell you how I really feel!" Get out of that rut for both you and your loved one! Learn how to find expressive words shut up in your heart that can be put to paper. The only requirement for this is that you know who your letter is to dazzle. This is a unique and fun addition to any event. Bring scratch paper for drafting your `missive` and beautiful stationary for your final love-letter.
---
I cordially invite you to sojourn with me as I continue to explore the Victorian era. There are always new topics for performances under exploration. Your input and suggestions are greatly appreciated.
To schedule your 'rendezvous with the past' please call Diana Reardon at: 720.246.8896