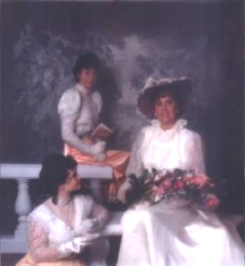 Romance your heart with a by-gone era! Let me introduce myself, my name is Diana Reardon; I am a Victorian entertainer living in Colorado, U.S.A. I'm thrilled to find what I have created in this entertainment field has been given local, state and even national media attention. Let me explain what this entertainment involves. I have enjoyed creating unique, unforgettable characters from the charming and romantic 19th century, which evoke a feeling of nostalgia. They are from a variety of social statuses, so my audience can learn of the nuances of the Victorian era and be entertained as well. As you peruse my promotional material you will be introduced to some of my characters. All performances are very light-hearted with fun audience interaction. Each character you choose will allow you a glimpse into the life style of different authentic Victorian characters; it will be your choice as to whom you will meet. I stay in character with appropriate props and beautiful period costumes. Each performance covers authentic meanings to old sayings which delight any audience. Performances are approximately one and a half hours in length, unless other arrangements are made. My engagement for your luncheon, bridal shower, banquet, convention, seminar and etc. will certainly become a cherished memory for all who attend. I look forward to entertaining you with each of the characters I have created, however I do not perform for holidays, preferring to fill the voids in between. I hope to meet you in person soon.

"Diana's performances are so realistic and entrancing that you feel you have been transported to the Victorian era!" Mary Ellen Schoonover---education specialist at the Aurora History Museum Call 303-739-6667 for more information
"The Titanic performances, and others, are very professionally delivered. Our audiences have thoroughly enjoyed her in many of her characters over the years!" Director at the Boetcher Mansion
To acquire more information make your selection on the left menu.
---